We look after several houses and flats in Fjällbacka. Please be aware that if you rent a private dwelling, sheets and cleaning is not included. You can bring your own sheets and clean yourself or you can rent it from the landlord. It will cost you a small fee.
Bottna Inn
15 km south of Fjällbacka we can now offer accommodation in an old saw mill. It is undergoing extensive renovations and will have 9 comfortable en suite rooms ready for the summer of 2022. The small restaurant has sea view and Bottna Inn has plenty of parking only 100 meters from the sea. It is possible to book a guided tour of Camilla Läckberg's murder village when you stay at Bottna Inn.
Nearby is the world famous art college of Gerlesborg and the artist community of KKV. Every Easter there is an art "safari" KVIRR and Bottna Inn is the perfect  base to explore the art of Northern Bohuslän.
To book your room, call Åsa or visit our website Bottnainn
Other things to see and do near Bottna Inn
20 km north are the World Heritage Site of Vitlycke . Rock carvings as old or even older than the pyramids can be found here here.
Heading south of Bottna Inn:
Nordens Ark is only 10 minuts away by car.
Havets Hus in Lysekil is approximately 30 minuts by car.
Uddevalla is only 35 minutes away and there you can visit the free Bohuslän Museum. See the shellbanks that astonished Carl von Lineus, visit the old spa resort of Gustavsberg,  shop and eat at the many lovely restaurants.
You will not be bored in Northern Bohuslän. Welcome to my paradise!
Email asa@fjallbackainfo.se for availability
Tallgatan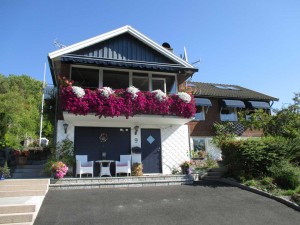 This lovely flat is on the top floor of a large house.There are 4 beds, kitchen, balcony with sea view , shower room and a separate toilet. Access to the large garden and parking. 300 meters to the sea and 700 meters to the center of Fjällbacka. Cleaning and sheets are not included but can be arranged with the landlady .Open all year for long term let. Short term lets are only available between April and 15 October.